LAHORE – An all parties conference (APC) convened on Saturday on Model Town massacre has demanded off the ruling Pakistan Muslim League-Nawaz (PML-N) to take action against the perpetrators as pointed out by Justice Baqar Bajfi commission and have Punjab chief minister (CM) Shehbaz Sharif and law minister Rana Sanaullah resign by January 7.
---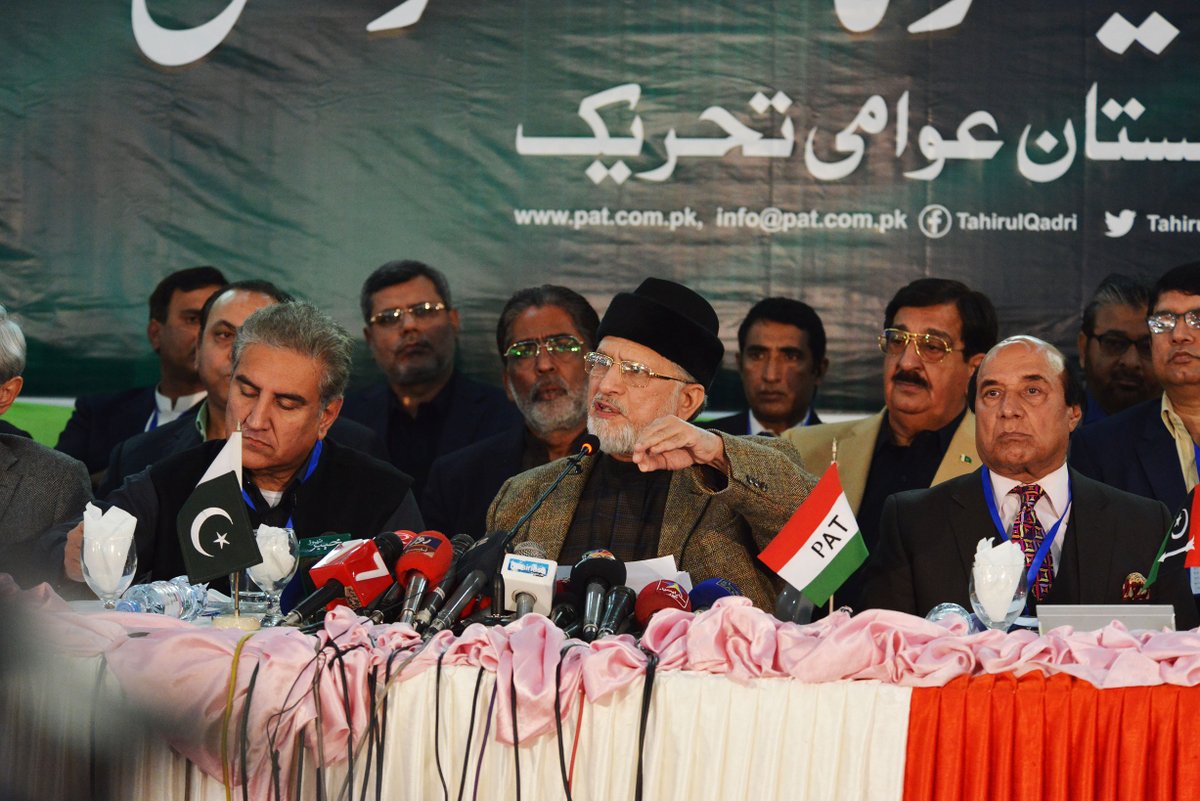 PAT chief accompanied by PTI and PPP leaders on his sides addresses the APC
---
A notification issued following the meeting consists of ten points including demand to have Punjab chief minister (CM) Shehbaz Sharif and law minister Rana Sanaullah resign.
According to the participants of the APC, Justice Baqar Najfi held the chief minister and the provincial minister responsible for the fatal clashes in Model Town on July 17, 2014 and they should resign.
Ultimatum to have the two ministers resign has been extended until January 7.
While addressing a conference , Pakistan Awami Tehreek (PAT) chief Dr Tahirul Qadri said that the APC committee formed a resolution that all participating political fronts agreed with and signed.
A page of the resolution was read out to the media by Pakistan Tehreek-e-Insaf (PTI) senior vice chairman Shah Mehmood Qureshi and another by senior Pakistan People's Party leader Qamar Zaman Kaira.
---
The ten-point agreement among participants
---
1- The parties strongly condemn those responsible for Khatm-e-Nabuwwat law amendment and Model Town tragedy. The massacre is the worst incident of state-terrorism.
2- Deadline for Punjab CM Shehbaz Sharif and law minister Rana Sanaullah has been extended until Janaury 7. Baqar Najfi report holds the two responsible for the incident so they must resign.
3- Steering committee would convene a session on January 8 and announce course-of-action.
4- Those martyred and wounded in Model Town tragedy were citizens of Pakistan. All parties are responsible to work for justice for the victims. Provision of justice will prove as a milestone for supremacy of the law.
5- Families of the martyred could only receive Justice Baqar Bajfi report in three years and that free and fair probe is not possible with alleged criminals being in positions of power.
6- The fact that not one cop was held out of 125 who appeared for interrogation proves that the government completely failed in providing justice to the bereaved families.
7- Chief Justice of Pakistan (CJP) Mian Saqib Nisar orders for establishment of an impartial Joint Investigation Team (JIT) for thorough probe.
8- An honourable judge of the apex court shall monitor the JIT proceedings.
9- Perpetrators of the Model Town tragedy and those who loot national treasury shall not be permitted to strike an NRO.
10- Qamar Zaman Kaira, Lateef Khosa and Kamil Ali Agha shall be the coordinators of steering committee. Nasir Sherazi, Sardar Ateeq, Khurram Nawaz Gandapur and Jahangir Tareen shall be part of the committee as well.
---
To struggle for provision of justice to the grieving families of 14 martyred persons is responsibility of the entire nation.
He warned that the protest of the parties that have agreed to the ten-point resolution could be launched in Lahore or any other city. The political fronts needed time to prepare for the protest, he said adding that the January 8 session would decide the nature of the protest.
However, he said that the protest could be a country-wide demonstration or a sit-in.