Muslim Times
NEW DELHI (Web Desk) – King Khan has finally received his bachelors degree from the Hansraj College in New Delhi after a span of 28 years.
The 50-year-old was a BA student of the college's 1985-1988 economics batch.
The Bollywood superstar had arrived in the college with Maneesh Sharma who is the director of his upcoming movie 'Fan' and an alumnus of the same college.
The actor was overwhelmed and pleased on receiving the degree from the principal of the college Rama Sharma.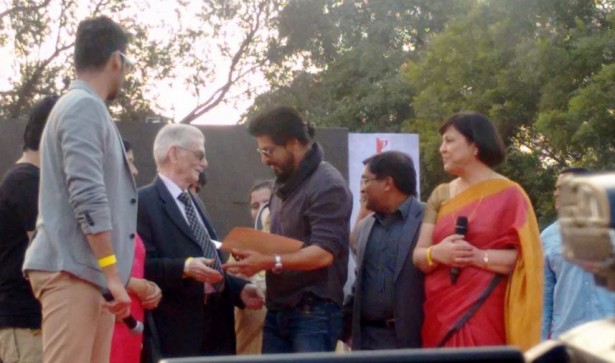 Shah Rukh Khan collecting his degree from the college principal
A large number of students of Hansraj College and neighbouring colleges of Delhi University gathered for the ceremony to catch a glimpse of him.
"This is a very special moment for me. I am back to my college after so many years. There is only one thing that I am missing. My children are not with me today as I wanted to show them every corner of my college. For me, this is the most special moment in my life because whatever I know and have learnt in my life is because of the college. Though my school was beautiful but my college taught me how to be who I became," said Khan as reported by The Indian Express.
The college principal was quick to add, "We are very happy and proud to bestow him with the degree after so many years. We had kept his degree safely in our college."
The actor also signed the register after taking the DU graduate degree.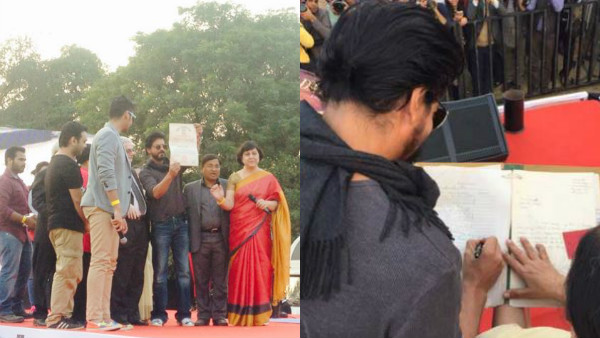 The actor posed with his degree and later signed the register
While advising the current batch, Shah Rukh Khan said, "These are the best years of your life. The happiness that you will get in the college, in the grounds, classrooms and the Lovers' Point, will not be found anywhere else."
He took to twitter to express his happiness and gratitude.